Holiday Giving Campaign
Welcome to our Holiday Giving Fundraiser!
Here's Rachel Osterbach from A&E's "Born This Way" to ask for your help.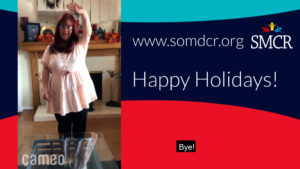 In 2020, things have been very different for SMCR and all nonprofits our size. But just like a butterfly, we are evolving, learning to adapt to the new world we are living in, and beginning to fly. We thank our supporters and our members for all the fantastic virtual memories we have made in 2020, and we look forward to a time when we will all be able to gather again and celebrate the joy of togetherness. Throughout this season of giving, we'd like to remind you that even the smallest donation can make a huge impact on the lives of our community members with disabilities.
SMCR invests in people and programs, not buildings and infrastructure. We think this strategy is so important to maximizing our impact on our members' lives. Right now, we can offer high quality accessible online events and opportunities to our members with disabilities, and we do that by reaching out to community members like you. SMCR has been able to offer virtual evenings of cooking, dancing, drawing, faith and gaming in 2020, and our members and families have enjoyed having these extra opportunities almost as much as we've enjoyed offering them! And, of course, these events, supplies, facilitators and instructors cost money. This is where you can truly help us thrive!
We are so thrilled that you are considering SMCR for your charitable donation during this time of great need in Southern Maryland, America and indeed across the globe. And remember, word-of-mouth is our best advocate. Help us spread our wings and be seen in Southern Maryland by sharing your donation efforts with your friends, family and coworkers on social media and through email.
Please support our Holiday Giving Fundraiser by giving as much as you're comfortable giving. We thank you in advance for your support of SMCR. We know that during this holiday season, every penny is important to you and your family, and that will not go unrecognized. Be safe, be well and we hope to see you all just as soon as we're able!